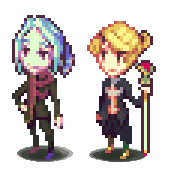 Project 37
Edit
Project 37 was a tactical RPG project in development on Rpg Maker VX, before sometime before the existance of RMVXA.
The two men in the picture are an "evil" couple that would fight against the "lawful" system through their wrongdoings, that ultimately were good.
Art Style
Edit
The art style employed in the game is a mixture of Soul Cradle's and Syosa's.