One of the main characters for the ProjectROSE cycle.
Her ProjectROSE2010 description states as follows: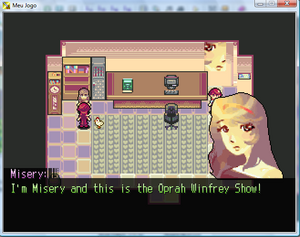 "Age:16 Weapons: Most swords, some both-handed swords, Guns and some rods. (Again,She's not very good at any of these in the beginning.) Element: Fire/Earth Starsign: Leo/Leo (Ascendant) Beggining magic : Blind Beginning Skill : Cheer Power
Personality: Sadistical, extroverted and somewhat sad-feeling, tough is extremely happy-go-lucky in the inside. Hates squirrels."